Made to Measure Frame (MLDA137)
Black stain frame, 4.5 x 6"
Wood frame has a 12mm face width.
This black made to measure picture frame is suitable for displaying a single 4.5 x 6" size picture or poster. Its stylish genuine wood stain moulding is 12mm wide. Fixings provided allow for wall hanging in either landscape or portrait. The acrylic face will protect prints from wear and damaging sunlight.

We make all custom frames here in our UK studio using new technology and old school craftsmanship. Each frame passes through the hands of 7 talented framers before it's packed. The result? A high quality, unique frame made to display your favourite pictures.

You'll see every detail of your picture because our Clarity+ Glazing is an exceptional grade acrylic used on the latest 4K TV screens.
How it Works
Find a frame you love
Choose a frame and mount style that'll bring your picture to life
Digital vs physical
You can have us print your picture or customise an empty frame to fit an existing print or poster
Unwrap & hang
We'll deliver your frame ready for you hang and admire. It's so simple
Product Details
Highlights
Simply open up your frame from the back and insert your own artwork
Hangs both landscape and portrait
To clean, just wipe with a dry cloth
Genuine perupuk frame with a stain finish
Hand-crafted in our UK studio to make your frame one-of-a-kind
Beautifully clear acrylic helps to protect your artwork from the elements
In The Box
Frame


A stain finish perupuk frame with an external size of

128 x 166mm

(approx.)

Hanging Hardware




High quality press fix hangers suitable for the weight and size of your frame

Glazing




1.5mm Clarity+ Acrylic. Although this material is more expensive than glass, it's used in your frame because it offers superior UV protection, is far safer and is beautifully clear

Backing




Removable 2.5mm fibreboard back
Customer Reviews
Good service
Delivered on time pictures fitted perfectly well pleased with the service
By Roger W. on 10 October 2023 Verified Customer

Thanks for your feedback
Thoroughly happy
I ordered a custom frame in mid July and was contacted by eFrame to advise me that frame in the dimensions I had ordered may not be suitable to hold it''s own weight. I was extremely impressed by this because it showed me that they are not going through the motions getting orders out the door. We made adjustments to the order and I received the frame on time and in great condition, thanks to the very secure packaging. I am equally as happy with the frame as I am with the rest of the experience from eFrame. When I need another frame I will use eFrame for certain.
By Paul C. on 8 September 2023 Verified Customer

Thanks for your feedback
Scarborough coast line.
So pleased with this and really good quality service. Thank you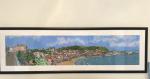 By Sharon S. on 29 August 2023 Verified Customer
A note from the team
Many thanks Sharon - I spent many memorable times there in my youth so it''s really nice to see that amazing painting.

Thanks for your feedback
View 21 More Reviews
Write Review
Ways to Frame
Order a frame for a physical piece you already have (and fit the picture at home) or upload a digital photo for us to print and frame for you.
Size
Pick the size of the picture you're framing - we'll make the frame to fit.
Measuring Your Picture
Made to Measure & Popular Sizes
You can select from a list of over 200 sizes from the "Popular Sizes" tab. These cover lots of common artwork sizes from A4 certificates to huge Ordnance Survey maps. If the size you require is not offered as a standard size, don't worry, you can order a made to measure frame and save yourself a lots of money.
Measuring
Measuring for your new frame couldn't be simpler. All you have to do is tell us the size of your artwork in millimetres (mm). Follow our easy, step-by-step guide below.
Lay and flatten your picture on a level surface
Take the measurements of the height and width of the area you'd like to frame. If you're planning on trimming your picture, please do so before taking measurements. If your picture has white borders and you don't want to see them, you'll need to trim them off.

Fig 1. Frame your whole picture by providing us with the height and width

Fig 2. Frame a portion of your picture by trimming and then providing us with the height and width

Please double check your measurements or confirm your sizes with a friend
Simply input the measurements you've taken (in mm) and we'll make sure the frame fits your picture
For example, you're framing a picture that's 300mm x 450mm, input the sizes 300mm x 450mm.
Points to Note
The size you enter or select is your artwork size, not the external size of your frame or mount.
Part of your image will be hidden behind the frame lip or your mount. This is to make sure your picture doesn't fall through the middle.
Please contact us to discuss any unusual requirements.
Mount
A beautiful window into your art or photo. Get the most out of your framed piece with one of our mounts (passe-partout). They're designed to draw you in whilst also helping to protect your picture by spacing it back from the glazing.