Leave the framing to us.
Place your order online then send us your pictures. We'll frame them up for you then send you the fully framed art ready to hang on your wall, just as you would expect it from your local picture framer.
Artwork fitting service
From the finish of the frame moulding, to meticulously cut mounts, and spotlessly clean glass, we make every effort to ensure that your framing project is perfect. So when you select our artwork fitting option you can rest assured that you're about to receive the best product and service.
How it works...
Three Easy Steps to Getting Your Artwork Professionally Framed
Note that this service is aimed at the fitting of photos, prints and pictures. Although we frequently do frame football shirts and other memorabilia, we will need to have a chat with you first to ensure we can give you what you want.
Place your order online for the style and size of frame you would like. We will use this as the basis for the framing work. Feel free to contact us if you wish to discuss.

Under Section 6 on the Design Studio scroll down to where it says 'Artwork Fitting Service', select it and complete your order.

The last thing you need to do is to send your artwork to our factory. We'll do the rest and a few days later you should have a picture frame ready to hang on your wall, just as you would expect it from your local picture framer.
More About Our Picture Framing Services
At eFRAME.co.uk we like to monitor current trends in the online picture framing market so we can constantly update and develop our website and framing services to ensure you have the most comprehensive, on-trend service available. We are the UKs number one online bespoke picture framing company with 150,000+ customers. We are currently situated just outside St. Neots in Cambridgeshire and operate from a 33,000 sq. ft. manufacturing unit.
More frame choices
We have an extensive range of materials from photo mounts and mouldings to picture hooks and picture framing fitting services. Our stock holding for frame mouldings is currently over 600. With a choice of this size there is something for everyone, whether it's aimed specifically at art gallery framing and oil paintings, stretched canvases, or something more personal such as poster and photo frames. As a custom picture framing company each frame we make is unique to you. So, no matter if it is 1 or 1000 frames we have the necessary resources to cope.
Professional framers
We have Guild Commended Framer (GCF) staff on site overseeing all production and training. As a result of this, and years of experience, our bespoke framers are highly skilled and motivated to provide you with a first-class service.
eFRAME: a professional picture framing company with standards second to none - the perfect place to get your artwork or photo in a frame.
Take a look around now...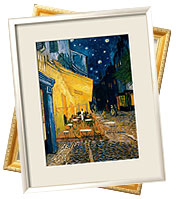 Custom Frames
Find the perfect frame - any size, colour or style. We have the largest selection of frames - with over 600 to choose from you'll be sure to find the one you want.
Custom Frames
Ready Made Frames
If you're looking for a ready made frame then this is where you should start. Our range includes many different types of frame in different styles to our custom products.
Ready Made Frames
Photo Frames
Shop here for standard desktop photo frames, or for themed frames suitable for special people or occasions such as anniversaries, birthdays and weddings.
Photo Frames