1. Privacy Policy
eFRAME.co.uk does not sell or trade any of your personal details to third parties. You may occasionally receive other information from us as a result of your registration or order. If, at any time, you wish to stop receiving information from us, please send us an email , or call us on the number below.
All personal information transmitted using this site is secured using an Equifax Secure Inc. SSL certificate. This can be seen below or by double clicking on the padlock symbol on the status bar of your web browser when you are on our checkout page.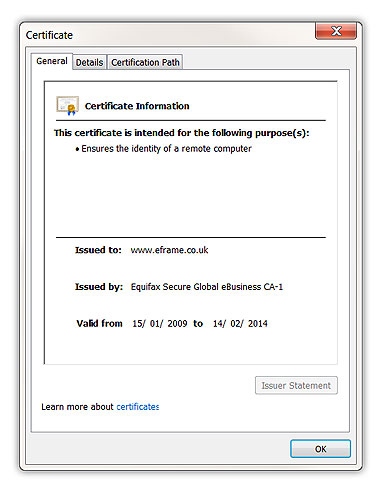 The encryption technology employed (High Grade RC4 128 bit)) makes it very difficult for unauthorised people to view information travelling between computers.
2. Stock Figures
All stock and availability figures shown on this site correct as at the end of business the previous working day. To be sure of availability we recommend you contact us before placing your order.
3. Pricing
All goods on this website are priced in English pounds, and are exclusive of VAT and delivery. Full delivery costs are calculated and shown when you add an item to your basket.
Price and availability may change without notice.
Payment
We accept payment online by Visa, Mastercard, and Switch cards. This is a 2-stage transaction.
Stage 1 is after you have securely submitted your order and card details. At this point we will check availability of the product(s) you have ordered. Stage 2 is either processing of the payment and subsequent delivery of the item or, if unavailable, email notification to you of the shortage. Please note that your card will be charged only if the items are available.
By placing an order you consent to payment being charged to your credit card as detailed at the time of your order. Upon payment and acceptance of the goods, title to the goods will pass to you and we you will receive, inserted in the packing envelope on the outside of the package, your invoice.
4. Delivery
Despatch of all in stock orders except mirrors will be made within approx. 5-7 working days. Mirrors may take a few days longer, but at the latest should be no more than 14 days. If you have an urgent requirement we have a priority service available and will usually be able to help. If for any reason the timescales cannot be honoured you will be kept informed.
Delivery charges are calculated automatically by the web site when you add to your shopping cart. Goods are despatched using either Royal Mail or our nominated parcel carrier.
Where delivery is made by our parcel carrier, the delivery charge is for 1 attempted delivery only. Should you not be in to receive delivery, and have not provided us with alternative delivery instructions, a card will be left and your order will be taken back to the parcel carrier's local depot. You should call to arrange redelivery within 5 working days. If you do not arrange redelivery within this time, your parcel will be returned to eFRAME and you will be charged for redelivery. If you request re-delivery to a different address, then we may levy an additional charge of £5.00 + VAT to cover the cost charged to us by our parcel carrier. It is strongly advised, therefore, that alternative delivery instructions are provided to us at point of order.
You are responsible for payment of any local customs and import duties.
We ask that, should your item fail to arrive in the allotted timescale, you advise us by email as soon as possible so that we may investigate with the parcel carriers. Any dates quoted for delivery are approximate only and we will not be liable for any delay. It is your responsibility to ensure that you order from us in adequate time to prevent any disappointment resulting from late shipment.
Consolidating orders to reduce delivery charge
On occasion, you may find that you need to add to your order after it has been placed. In these circumstances, we ask that you submit another order online. If this is done on the SAME DAY as the original order we will be able to consolidate the two, thereby reducing the overall delivery charge. Where orders are placed on different days it is not possible to offer this consolidation service due to the high level of administrative work required.
5. Returns
We are a very caring business and go to great lengths to ensure your items are delivered to you in perfect condition. Occasionally, mishaps can happen and we guarantee you that we will do our very best to resolve the situation amicably, and that you are totally satisfied with your purchase.
Our cancellation and refund policy is set in accordance with Distance Selling Regulations 2000 and other key regulations.
Custom Made Products
The vast majority of goods for sale on this web site fall into this category including all picture frames that can be selected and priced from a photo of a section of moulding and where dimensions can be typed in for pricing purposes, and mounts. Note that any product referred to as being in a "standard size" does not mean it is ready-made or off-the-shelf. We are a custom frame manufacturer and all sizes are made to order.
Where bespoke goods have been supplied correctly, we are not able to offer any exchanges or refunds.
Where an order for a bespoke product has entered production and work has commenced, we will be unable to cancel the order.
Ready-made Products
A few of the products on our website are 'off-the-shelf' such as Swept/Decorative frames and Picture Frame Accessories.
You have a 7-day cooling off period from date of receipt of your order in which to decide if you wish to keep the goods. If you do decide to return the goods you must do so at your own expense. We will refund your credit card the value of the product(s) plus the delivery charges from us to you (if any) within 30 days.
Damaged or Faulty Goods
If your goods are faulty, please notify us within 3 days. If the goods have been damaged in transit, you must notify us within 24 hours unless you believed them to be damaged and signed for them with the parcel carrier as damaged. asap.
Returns Authorisation
Any goods being returned must have a Returns Authorisation Number (RAN), gained by contacting us via email - returns@eframe.co.uk
Unauthorised Returns
Any goods returned without a RAN (see above) will be held for 3 months from date of receipt. During that time you will have the option for us to return the goods to you at your expense, or arrange collection.
6. Liability
Whilst we attempt to be as accurate as possible with the information on the website, there is always a risk of human error and we will use all reasonable endeavours to rectify errors and omissions as quickly as is practical.
Please be aware that the content of the website shows material finish and colours as accurately as possible. However, batches of material can vary in all respects as does the colour calibration and quality of computer monitors. For these reasons, if exact colour, material or other specification is important to you we suggest you contact us for advice prior to ordering as we cannot accept responsibility after the goods have been delivered.
eFRAME will not under any circumstances be liable for any consequential loss as a result of the incorrect supply, late delivery, accidental misrepresentation or any other reason whatsoever whether avoidable or not.
You may not download or copy the content and other downloadable items displayed on the website for personal or commercial gain. Copying or storing the contents of the website is strictly forbidden.
This website may contain links to external sites. eFRAME shall not be held responsible for the availability of, or the content located on or through, any external site, nor for any transactions between you and such sites.